im not a big harry potter fan. never was. never read any of the books.
but i do enjoy the movie series. i thought the 1st and 2nd was bad but maybe i just didnt understand the storyline then so im thinking of buying *cough* downloading *cough* the whole series
many didnt like the half blood prince
fans of the book are mad cus the screen writer threw out a lot of the key scenes and that the movie didnt stay true to the book. cliche arent we? always the same comments since the first movie came out
i find the movie to be enjoyable and it was weird but unlike most of the movies that ive watched recently, there wasnt a moment where i had my attention elsewhere. well except for the part where my sis called asking bout sims 3, totally missed that part. family comes first right ;p
but then again, i went to watch it a second time so yeah
the story gave way and room for the sequel which i read will come in 2 parts cause its the end of the series i think kot ntah idk
and it aint all happy and goodguys-rocks!-bullshit like transformers. lame
but what was really lameeee was the crowd tho. both times, the crowd were laughing randomly at almost everythingggg. seriously
same thing happened when i was watching transformers and blalbalblal
( major spoiler ahead those who do not heed my warning pegi mampos )
i mean come on, dumbledore got zapped, he fell and they decided to do a bullettime thingie to like err capture the feeling as he descend to the ground
he was a goner for sure and both times, people were laughing just because he had a lifeless-shit-im-so-dead look on his face in slowmotion and probably because rowling made him gay ( really )
would be funny if all you jokers get shot and fall off klcc eh?
yea that would definitely crack some smiles
getting too emotional here
Evanna Lynch!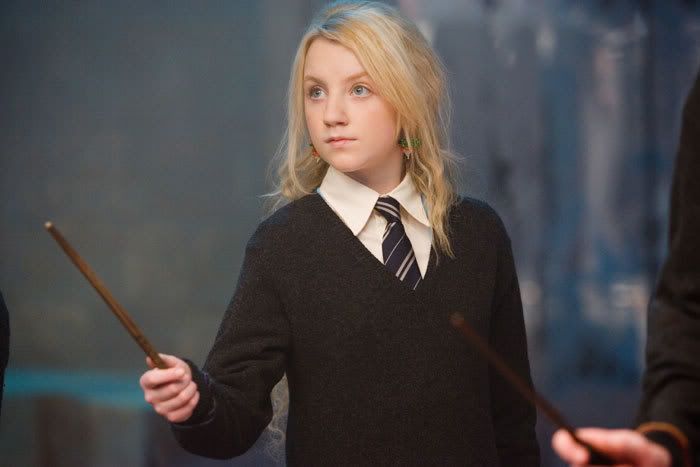 man dier cute giler okay. i mean her character, Luna Lovegood. i was really suprised to find out that her actual voice is really that high. insane. ain besyukur okay. suare Evanna lagi cartoon. her voice sounds so dreamy and angelic and soo erm tak macam orang lain. but i bet it would be annoying nak mampos if you got her as your gf and she's like constantly nagging or yelling and screamingg. mase tu mesti rase cam nak cabut telinge je. but more Luna plssss
im off to bed. nitenite. dont let those wrackspurts get into your ears